Intercom System
Back To Our Services
Intercom gate systems are not simply complementary to your wrought iron gates but necessary for your easy access in the driveway. They are also the most convenient way to check who is standing at your entrance and grant or deny access accordingly. "Gate Repair Moorpark" is an expert company in these systems and our contractors can truly help you find the ideal Intercom System for your house, business or any other facility.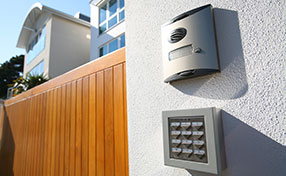 We have excellent expertise with gates of all types for many years and that's why our assistance can be of great value. Our technicians might be experts in gate repair but they also know the characteristics of different intercom systems and which one will be appropriate for which gate. We certainly provide repair services and have the ability, knowhow and training to install and program these systems perfectly.
Excellent professionals for phone enter systems
Whether you live in single family houses or in a large building, intercom installation is more than necessary. If you have a gate, it is important to also install an intercom. Rest assured that there are tens of different types of systems in terms of what they offer and they can accommodate families or huge facilities. Based on the needs of your property you can get an Intercom System with simple applications, two way communication, a few or numerous codes in order to facilitate your own entrance, the entrance of your family members or hundreds of tenants in a building.
Gate Repair Moorpark can make your life much easier. Our technicians know these systems well and their assistance can be invaluable. We offer great solutions and products manufactured by the most prominent factories. We are masters in Doorking intercom systems and we can also provide you excellent systems made by Linear or Aiphone. Of course, our experience is guaranteed as well as our capacity to program intercom systems, install and repair them. We are here to cover all clients' needs efficiently and on time. Call us anytime for all your intercom needs!